Imagine a white government palace in the wild Białowieża Forest, just beyond the wall on the Belarusian side. It is Viskuli, a village that witnessed the collapse of the Soviet Union and the birth of a new reality. It was there, in 1991, that the breakthrough occurred that ushered in a new era. The crumbling walls of the old regime gave way to the new constructions of capitalism – a 'metal curtain', this time topped with barbed wire, stretching 814km east as the crow flies from Berlin.
For over 30 years, brick by brick, castles were built, surrounded by walls of thuja, with white towers hiding treasures and rulers alike. As this wall separating us was built, we gradually lost sight of each other. Three decades of progressive isolation, resulting from unfettered free-style capitalism, have reduced communication to memes, dating to Snapchat, and online freedom of expression for people unable to form a sentence to disinformation and fake news. We are the version of ourselves that we choose to post on Instagram. We let people come close to the tower's walls, but no further.
This is why a mysterious white tower hovers over each of Marcin Dymek's works. Within its walls, it hides riches and the author himself.
It is a barrier erected on the borders of imagination, fear, art history and processed reality, which emigrants from the outside world can only cross by climbing a bright yellow braid. Each of Dymek's works has a hidden entrance. In the depths of the works, we discover a post-modernist search for a new order rising from the rubble of the past, the reconstruction of which has taken on a new meaning after February 2022.
The poetic resonance of these works draws on quotations from the distant past woven into the present. They are like afterimages of familiar themes, allusions to artworks born just before the storms of war or from a premonition of impending change. Nothing is explicitly served but encrypted in meandering patches, lines, and forms. Echoes of figures from Malevich's canvases emerge before us, animated by a melancholic colouring typical of Paul Klee, vibrating with dramatic anxiety.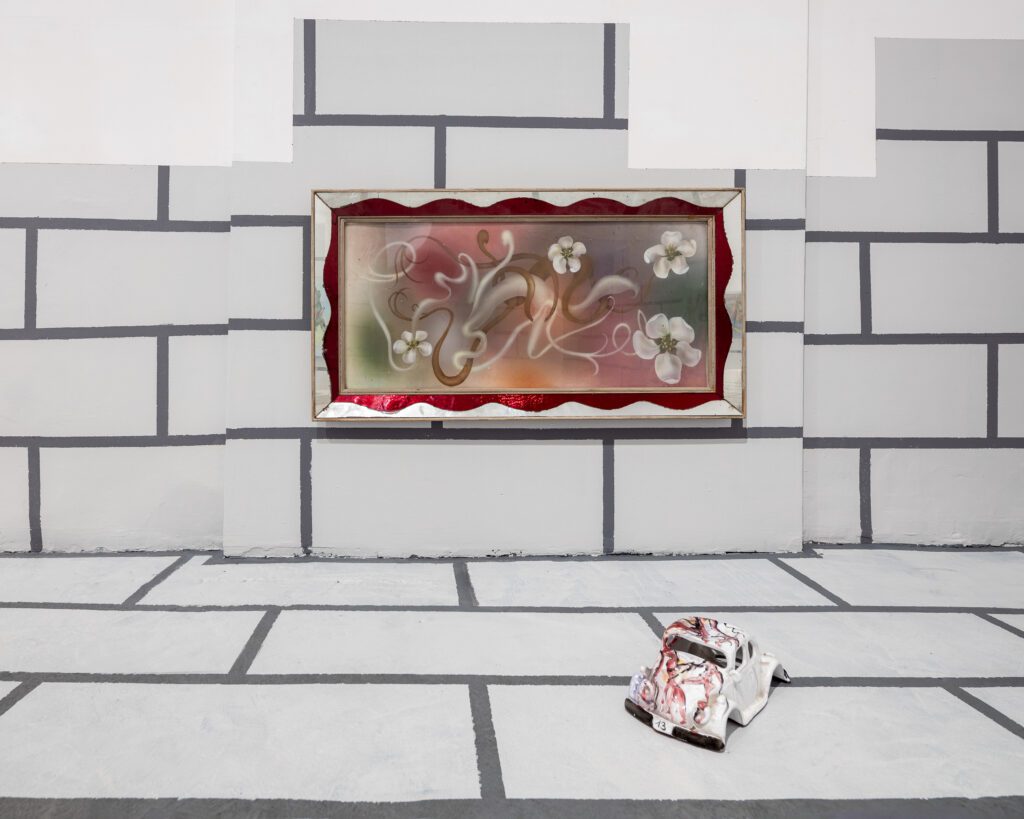 The same sense of unease, a characteristic feature, is also present in the ceramics created by Zofia Marklowska and Andrzej Mędrek in the 1990s. These works resonate with the realities of difficult times, seemingly different yet similar in their dynamics and uncertainty resulting from the redefinition of reality.
All of this is woven into a symbolic loop in the UFO Gallery. "White Tower" is not only a solo exhibition of Marcin Dymek's works. It is also an opportunity to commemorate the now-defunct Gallery 13 – Poland's first design gallery, which recently closed its doors after forty years of operation at ul. Krakowska 13. It is not only an opportunity to look at post-modernist ceramics. It is also a chance to join in the reflection on the fate of post-modernist aesthetics.